There is a headline or two about American Indians participating in the current boycott of Israel. Is it true? I know that there are white liberal professors on university campuses who are always ready to use Indians. The Indian is always the most powerful validation any cause can use for its mascot.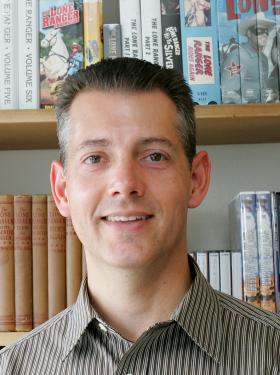 English Department professor, Dr. Chadwick Allen
leading Indians in a charge against Israel?
Back on December 18, 2013, the Jerusalem Post noted Ohio State English Professor, one Chadwick Allen, president of the association and coordinator of American Indian studies, had openly advocated anti-Semitic, anti-Zionist positions, publicly, and if there is any such "movement," it must be very small, and insignificant, reflected more Prof. Allen's disposition, and not that of American Indians. Of course, he tried to link up his fabricated Indian sentiments with the poor, oppressed, so-called "Palestinians." Of course, a small Asian group on a different campus (Cornell) thought it would join the boycott also. Like, minorities find status in dissing the Jews? There's an irony and a half. They've been pretty cocky about it, too.
But this business is all lead by white liberals, heads of the departments, or liberalized student journalists. This is political bravado, on a youthful campus environment, when young minds are easily taken advantage of.
Of course, the National Association of Scholars, and other professional academic groups, will have none of this. Their official statements oppose the boycott for a number of reasons.

Dr. David Chang, Secretary of the Native American
and Indigenous Studies Association, teaches at the
University of Minnesota.
One thing is clear: there are no Indian mentioned in any of these articles, on either side of the issue. Well, let BadEagle.com be first.
Obviously, according to the university campus, American Indians have no idea what to do, ever. We have to be herded, slipped a few dollars, then we will protest anything. This is the way liberals thinks of Indians, and the way they use us.
Speaking of liberals, the tyranny of King George III was notorious for using Indians against the colonists. That's how we got our name in the Declaration of Independence and in the Constitution.
And so, what honest reporters and scholars need to do is to feature American Indian leaders, by name, by place, even by tribe–who actually support the boycott against Israel. If we have to stretch our necks in research to find out who the Indians actually are, we have been betrayed, once again, by the campus, the media, and even conservatives. This is just another abuse of Indians, and one which the United Nations not only loves to see, but will not rebuke according to its own charter.
We're supposed to be able to create our own image, build our own reputation in modern times, and not to be control by outside parties.
It ain't happinen,' obviously.