In November of 2011, the alien interloper in the White House said that he would veto any attempt of Congress to alter his sequester which would begin on March 1, 2013.
My message to them is simple: No. I will veto any effort to get rid of those automatic spending cuts to domestic and defense spending. There will be no easy off ramps on this one.
The liberal Atlantic says the president has had a change of heart. Would that the man had a heart, on anything, for anything.
Now Obama is blaming Republicans for the sequester! With typical Democrat doomsday drama, he threatens Congress and stirs up even more typical compromise from the traitorous assembly.
What we have is a man, a party, a government, who delight in their sole occupation of power brokering through smoke and mirrors, outright lying, and disdain for this great nation. There is no apparent interest in Congress for the remedy of a single ill. All legislation that passes is further discomfiture of the country.

The 1946 film, The Stranger dramatized
the conscience in a new and powerful
way for the American movie goer.
How can such institutional deception sustain itself? How can such an obvious and sinister warp of reality continue? How can the deceiver-in-chief expect to abide? How can a person's mental health not suffer a serious affectation after such intense, expansive lying is maintained for so long a period of time? There are consequences for sin against the soul, as it were. The human mind doesn't suffer known falsehood well. It reacts with aversion. The body knows when the mind is false. There is a price to pay for lying in one's own person.
Like a vice, lying gets out of hand, out of control, and out of the realm of repair. It takes a catastrophe of the concrete. The scope and intensity of corporate falsehood, becomes so great that no single patriot can effect it. The depth of collective deception becomes irreparable by any legislative means. The face national fraud becomes so distorted, so twisted–like a risus sardonicus, that an impenetrable masque of grotesque pretense represents the public image. Like some giant freak figure in a Mardi gras parade, the American image floats in the street as the Red Death of the soul. The heart of the country is a scary clown.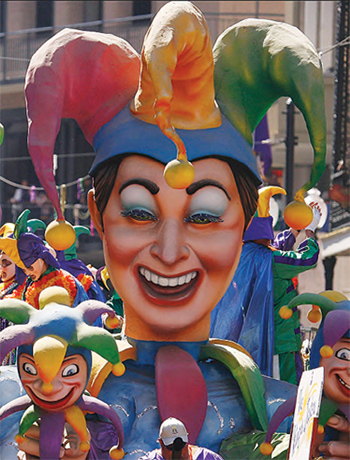 Mardi gras, 2013
And not that this condition has never evolved before in a nation, nor that its end should be otherwise than expected. When a government so leads a nation to believe falsehood, the consummation of all is at hand.
Judgment also will I lay to the line, and righteousness to the plummet: and the hail shall sweep away the refuge of lies, and the waters shall overflow the hiding place.
And your covenant with death shall be disannulled, and your agreement with hell shall not stand.
Thus saith the Lord, through the prophet Isaiah, to a most reprobate nation, once upon a time (Isaiah 28: 17,18).
A "refuge of lies," eh? The key word there is "refuge." A government hiding its true nature. And "covenant with death?" A truly ominous prospect. And an "agreement with hell?" What are we talking about here? National necromancy? Or, more practically, a disregard for death–as in population control?
American people are hardly attuned to such perspective. That lying should be associated with murder is generally the notion of fundamentalist Christianity, as in the words of Jesus. Speaking of Satan, Jesus said (John 8:44):
He was a murderer from the beginning, and abode not in the truth, because there is no truth in him. When he speaketh a lie, he speaketh of his own: for he is a liar, and the father of it.
But that's personal. That speaks of an individual. Could it be true of the Collective? Could a whole national identity be the experience of murdering and lying, together?
But, how can an individual mind sustain falsehood, a lie, without a mental breakdown? Edward G. Robinson (Mr. Wilson) exploited the fact that the mind cannot in fact sustain a lie, a serious lie, without a breakdown, in the 1946 film, The Stranger (directed by Orson Welles). Maybe this was just another popular "exploitation" of Freudian psychological theory, but, surely there is no human being who believes that lying has no consequence, or takes no toll on the liar–unless that human being his Barry Soetoro, a.k.a. Barack Hussein Obama.
Do certain kinds of people have a greater capacity to live with lies? Do some people have a knack for deceiving their own consciences? Do some inherit a talent for living falsely? Certainly, there are historical opinions which assert such thoughts, highly disputed as they may be today, in some professedly anti-racist circles.
Be this as it may, the conditions in the capitol of the United States are have exceeded critical mass. Corruption is established. The lie is long lain. Abortion, euthanasia, tolerance of jihadist, have followed. Is there a existential relation between government deception and government "murder"?
Something to ponder. Death, of one kind or another, is always with us here; but we do seem to urge it along, all too often.
The "sequester" bit is simply over the top, when it comes to lying. The talk of a tarnished legacy for Obama if the sequester advances is ludicrous, but spoken in sincerity by media commentators, even conservatives using the term. It's all part of the lie. What's to tarnish? What was ever bright and shining about the alien interloper?
It is becoming morally hazardous to listen to news, especially news out of Washington. It is a challenge to the soul. We become habituated, inured, to the dank drone of deception. (No wonder entertainment is at such premiums. At least we know entertainers are artificial. They don't pretend not to be.)
Will Obama last through his second term? That is the question. Will there be a breakdown? That would imply a conscience. After a lifetime of false pretenses, he may be set in his irregular ways. He may not have any personal dissolution, at least not from within.
And Democrats protect their agents from without, as long as the agent is useful.