Dan Asia, chairman of the composition department of the University of Arizona's School of Music, is clearly an American-minded Jewish educator with a political, historical message. BadEagle.com recently noted Asia's commentary on American classical music culture published in Huffington Post. It turns out that Asia had made some radically specific suggestions about American culture nine months earlier, in an online magazine called The Times of Israel (an Jerusalem-based e-zine apparently designed to reach the English speaking Diaspora).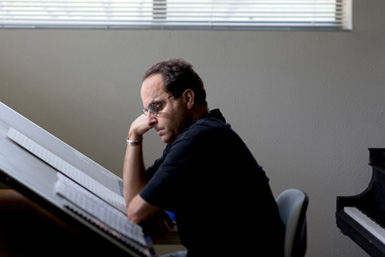 Prof. Dan Asia, University of Arizona.
In "Bringing the Star of David to the Stars and Stripes," Prof. Asia was interviewed by Amanda Borschel-Dan for The Times of Israel, back in May of 2012. On Jerusalem's Givat Ram campus, Asia suggests that the Jewish foundations of America are actually equally as strong as any Christian premises. But the context for his suggestion is in fact a new cultural program at the University of Arizona: The Center for the Study of American Ideals and Culture.
In this interdisciplinary effort, Asia purposes to study the serious challenges confronting Western civilization. He says, lightly, "We're dealing with small issues: how to save the Jewish People, Western civilization; save art, music…"
Culture is inevitably political, so, that means Asia has indeed joined in with other composers of great music who realized the importance of their role in shaping society. (Certainly, Ludwig van Beethoven comes first to mind, as noted before; but also, we could include Franz Liszt, and ironically, Richard Wagner.) As we noted in our previous article on Asia, modern music in American (i.e., noting John Cage in particular) has suffered ideological decay, as have most traditions of art and culture. Asia clearly means to remedy that downward trend–or at least make one heroic effort to stay the tide of parasitic nihilism.
Amanda Borschel-Dan writes,
"Asia is attempting to reinvent a curriculum for high arts through an interdisciplinary program, including anything from literature to sciences. "Our new major will offer students the option of engaging a cohesive and coordinated course of studies. The major will include required courses in philosophy, music, history, religion, literature, science and social policy, and the arts."
And further,
Asia's goal in this Renaissance Man-type education: to create better American leaders who understand the underpinnings of American culture. In an era of Tea Party politics, thinking like a Founding Father may appeal to today's freshmen.
I'd say this is the pinnacle of the 25-year old movement among the American Jewish community called "the Jewish Right." It is simply not true that Jews are all liberal, all Democrat, and all Communist. That is one horrific image that needs effacing. That's one stereotype that needs replacing. Asia's new program (still developing) is the perfect remedy.
I must say, one other way of removing or adjusting misleading stereotypes of Jewish Americans is the study of historical facts. The Jews of the American southwest pre-date the Jews of New England. Everyone thinks the Touro Synagogue of Newport, Rhode Island (1759-1963) is the beginning of Jewish history in America. The famous letter of George Washington (1790) dramatizes that image.
First of all, the Jewish settlement in Newport began in 1658. But, there was already a sizable number of crypto-Jewish people (marranos) in the southwest in 1579, when some two hundred families established The New Kingdom of León, the largest land grant in the New World (which included southwest Texas). This was all under Don Luis de Carvajal, an enterprising cryptic Portuguese Jew (marrano). The history and influence of the southwestern Jews is wondrously protrayed and documented by Harriet and Fred Rochlin, in Pioneer Jews: A New Life in the Far West (1984). The descendents of these Jews made a remarkable influence on American society, including Southern America.

Violinist James Stern, Daniel Asia, and David Yeagley, at the National Museum of the American Indian, Washington, DC, 2007.
Modern America tends to see the Jew as a Russian immigrant of the early 1900's, with Eastern European cultural trappings. Finally, the Communist Russian Jew dominated the Jewish image in America. This is indeed a misleading image. The Jewish part of America is so much earlier, broader, and much more "American."
Indeed, America has Jewish roots in ways most Americans have never dreamed of. We wish therefore all success to Prof. Daniel Asia and his efforts at the University of Arizona.
At his Center for the Study of American Ideals and Culture, Asia is attempting to correct prevalent cultural conceptions and create an equal emphasis between "Judeo" and "Christian" when studying Judeo-Christian culture.
And why not? A people must manage their image! Every people have that right and responsibility. In Asia's case, he does have a Goliath of misconception to fight. But, he also has history and truth on his side.
מזל טוב, Prof. Asia! (Mazel tov!)