Word is out! The great Ann Coulter is Cherokee! Her great grandmother on her mother's side was a Cherokee princess!
Why, there's plenty of evidence. Look at those high, aquiline cheek bones, that classic, predatory look. There can be no question that the woman is Indian. In an obvious case like hers, she needn't even claim it. Beyond what mulatto Melissa says, If you don't even think you're Indian, then you're Indian! If someone else thinks you're Indian, you're Indian!

Ann Coulter, in a surmising moment,
about to put an Indian hex on liberals.
Ann's mother, the great Nell Husbands Martin Coulter was from Paducah, Kentucky. Everyone knows that it was the town of Chief Paduke (likely Chickasaw, but, for our purposes here, more likely Cherokee). Chief Paduke was the arbiter of the village. It was all Indian, all the time. Then the white settlers came, and naturally intermarried. It is abundantly clear (more so for complete lack of evidence) that the chief took a white woman, and the daughter of that marriage was made a Cherokee Princess. Her name? "Nell." The women of this line were all well-known beauties, and all named Nell.
And, Ann Hart Coulter is perhaps apparently second cousin thrice removed Heart Hays, the one-day famous, presumed Indian pop singer. (Notice the similarity of the names "Hart" and "Heart." There can be no doubt, therefore, of authentic Indian heritage.)
Ann Coulter early distinguished herself in Indian knowledge and history when she wrote for BadEagle.com, bravely and naturally taking on the task of the daunting Bad Eagle Interview. (She was among the first to do so.) Clearly, Ann has obviously had a life of long and intimate experience with Indian affairs. Her Indianness is stellar, and cannot be questioned.
But, back to the cheek bones. This is clearly scientific evidence above all other that Ann's sharp, angular face bears unmistakable, indisputable evidence of her Indian heritage.

It's that pensive, wistful, austere
Cherokee beauty we all know and love.
And then the whole "lawyer" bit. How can a blonde Indian be doubted if she has a law degree? What more evidence can be rendered? (How can anyone question Elizabeth Warren's Cherokee heritage?)
We consider it rank racism to deny Ann Coulter's imperial Indian heritage. It is an unforgivable prejudice of the media to neglect such a history, and to hide from the public the truth about Indians in general. The mulatto Melissa Harris Perry has done her racial duty in testifying for Elizabeth Herring Warren Mann. Now let all other responsible, intelligent, clean, articulate reporters do the same for the great Ann Coulter, great granddaughter of a Cherokee princess.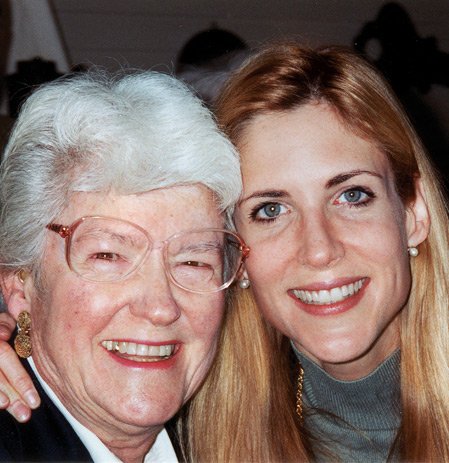 Nell Coulter and her daughter Ann. The cheek bones, the hair, the eyes, all overwhelming evidence of a grand Cherokee heritage. Let it never be questioned again.
(By the way, I actually met Ann's mother at a David Horowitz convention some years ago. The dignity of her person could only have originated from regal Cherokee princesshood!)