Will Iran actually use nuclear bombs when and if it can? It is no small achievement for Iran to be able to even talk about nuclear energy, let alone threaten the world with missiles and nuclear warheads. But, do we have reason to believe that Iran would in fact use such weapons against another nation?
Iranian leaders have certainly made it clear that they at least want everyone to think they will use them. They obviously want the political influence that comes with the possession of nuclear weapons. The mullahs and their representative Ahmedinejad have repeatedly dramatized threats toward Israel, Europe, and the United States.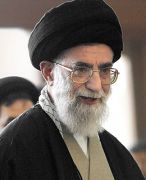 Ayatollah Khameini and Ahmedinejad.
Iran has certainly not hesitated to supply every other kind of weapon to dependent regimes and organizations who themselves would probably use nuclear weapons—of any kind, since they have freely used all other weapons against Israel and the United States.
But, ironically, Iran has no natural enemies. No country is at war with Iran, or even plotting to be. There is no cause for Iran's aggressions. No one is attacking Iran, but some countries are vitally concerned about protecting themselves against Iranian aggression. It is as if Iran is tempting anyone and everyone it can to make a move against Iran, and then Iran will act—however ineffective such action might be. Iran has already threatened "preemptive" action against any country it thinks might attack it. This is truly a self-spiraling, semi-autolytic political trap, created by a country that actually has relatively limited military sources.
It's all about boasting. But, boasting with a historical base. Iranians are the heirs of the Persian emperors. Imperialism is in their genetic coding. The mullahs see Islam as their most effective tool in achieving hegemony in the Middle East. In their compulsive ambition, however, they fail to consider that Islam is an Arabic religion, and the Arab world will never "submit" to Iranian leadership. Iran's most international intents can only be expressed by its hired subordinates in scattered global points, or in attempts to make allies out of Arab countries, like Syria or Lebanon, by supplying their governments and radicals with weapons.
Iran wants to play hardball, and the need for nuclear weapons is paramount. A country is not a world player in the big leagues without the bomb.
Iranian-Americans often have interesting evaluations of their homeland government. One friend of mine, Kuresh, said, "Iran will never use nuclear bombs. No one ever has—except the United States, 70 years ago. Look at Pakistan. Look at India. Are they strong, stable governments? Yet, they have the bomb. Why can't Iran have the bomb?"
Kuresh makes a good point. He confirms the suspicion that boasting is all for anti. It is for political influence, for international ambition, that Iran seeks nuclear weapons—never to use them.
The next question has to be, then, why threaten the world with them before you even have them? Why make the world believe you're going to use them, if you're not? If Iran really wants the bomb, why announce to the world an intent to use them—specifically speaking to Israel, Europe, and the United States—the very countries that can stop you? This is all self-defeating.
The situation is enigmatic. Iran's words and behavior are self-contradictory. Do Iranian leaders feel the West is so naïve and ignorant as not to see this? (Considering the conflicting opinions in the West about what course to pursue toward Iran, maybe the Iranian leaders are smarter than everyone thinks.)
Israel certainly is obliged to take Iran at its word. If Iran says it intends to eradicate the state of Israel from existence, and engages in world-wide terrorism in the mean time; and if Iran is bound and determined to have nuclear weapons, then Israel simply has to take Iran completely seriously. Israel cannot afford to be absorbed in political, psychological second-guessing Iran.
If a person is assembling a gun, and tells you and all your neighbors that he's going to use it on you, and in the meantime he supports anyone who is throwing firecrackers and Molotov cocktails at your house, you'd better believe he's going to use his rifle on you as soon as it's ready.
Personally, I cannot believe Iran would be so foolish. A maniacal abuse of religion, a fanaticism focused against Israel, may compel words of great boasting and death threats, but I believe the mullahs enjoy their wealth to much to blow it way.
UPDATE: More recent conversations with other beloved Iranian friends reveal other opinions. "Iran will use the bomb," I was told, and "they will use it against Israel." "David, you do not understand how crazy the mullahs really are. They are crazy, ignorant, and stupid. They are not qualified to lead a country. They are crazy. They don't know what they are doing."