Apparently there is still such a thing as a "dumb Indian," but not according to the older stereotype. A dumb Indian use to refer to an Indian who simply lived in a different world, a world passed, and therefore he didn't effectively connect with the subtle complexities of modern society. But today, a dumb Indian is an Indian who not only thinks that Barak Hussein Obama is a friend of Indians, but feels proud to donate money to his 2012 campaign.
Last week, January 27, 2012, Native Vote Washington, a liberal, Democrat NGO, held a fund raiser for Obama, inviting tribal leaders from only the richest (liberal) tribes. It was $35,800 a plate, according to the liberal correspondent and homosexual advocate of IndianCountryToday, Rob Capriccioso.
At least 70 Indian tribal leaders were expected. Capriccioso calculates that to be $2.5 million for the alien regime. The figure reminds us of the Obama (Democrat) budget for the Bureau of Indian affairs–$2.5 billion, only that BIA budget is divied up among 564 federal recognized tribes. The Bush (Republican) administration, of course, had raised the BIA budget from $1.8 billion to $2.2 billion during his administration, on the way to doubling it. Obama has certainly not continued the trend, but taken the opposite direction. (Perhaps this is all reason to sell the tribes to the private billionaires, like Ted Turner, Warren Buffet, Donald Trump, or even George Soros.)
Early on in his 2008 campaign, Obama had recruited "dumb Indians." Naturally, he picked the most vulnerable and corrupt tribe, isolated, and baptized in tainted rivers of casino gold: the mighty Crow. In May of 2008, he went to their reservation in Montana, and ended up not only with money, but a coveted Indian name. They called him "One Who Helps People Throughout the Land." It was a small concession to make on the part of the Indians; for the Crow leaders thereby maintain their freedom to be corrupt and to oppress their own people. The next year, Obama naturally reciprocated, honoring a Crow elder, Joe Medicine Crow—in a most blasphemously un-Indian ceremony (–a non-Indian clowning around a real war bonnet, while comically trying to place a medal around the old chief).
In 2004, I met a full-blood Crow. He came to Washington, D.C. to speak at a National Press Conference on May 12. (I know, because I was also there, invited to give my opinion of Indian casinos as well. The event was barely mentioned in the Washington Times, and the casino issues weren't mentioned at all, only the ironies of Indian Child Welfare Act). The Crow brave described conditions of excess misery and injustice on his reservation, all caused by the greed and ruthless operations of the casino business. I was therefore immediately suspicious in 2008 when, of all Indians tribes in the United States, Obama went to the Crow tribe for his Indian "connection." I knew more than mawkish, hackneyed ethnic publicity was involved. (A Negro president honoring American Indians is like a black Santa Clause giving presents to German children. The irony was agonizing.) I was personally ashamed for the Crow.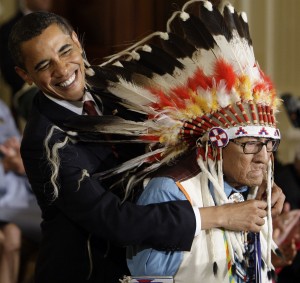 Obama, and Joe Medicine Crow. A travesty of honor.
Of course, not all tribal casino operations are so dramatically corrupt and injurious to tribal people; but, enough are so that there is national concern from coalitions like Citizens Equal Rights Alliance, United Property Owners, and One Nation. I co-authored an article with Barbara Lindsay, "The Use and Abuse of Indians," published in Ted Baehr's Movieguide magazine, August, 2006.

Diane Humetewa, Hopi.
Obama's Indians relations with casino tribes have apparently have continued and developed. An Indian fund raiser party of the caliber presented by Native Vote Washington ($35,800 a plate) is unprecedented, and speaks of the profound impropriety, outrageous corruption, and hideous hypocrisy in Indian Country. That leaders would even hold such an event, for a non-Indian, who has demonstrated no concern whatsoever for Indians—who in fact fired the first Indian state attorney general (Arizona's Diane Humatewa, Hopi) the minute he took office, shows unequivocally that these Indians are not leaders of Indian people. They are self-centered indulgents, exactly like the Magic Negro they honor. They all charm one another with their hedonist, "community" solipsism.
"Dumb Indians," as it were. They are unable or unwilling to consider Indian people above their own personal ambitions and notoriety. Yes, there are a lot of "dumb Indians" in Washington, and they come in all races. But for American Indians to sink into this role is piquantly tragic.