Are Jews and White Supremacists competitors? Are they quite similar in values, goals, and outcomes? Jews are certainly a very tiny minority in comparison to the numbers of white European and American Christians. In such an quantitative imbalance, how could the Jews be considered so threatening to White Supremacists?
The Christian religion. The Christian religion gives the Jews an advantage. Christianity is based on the Bible, on precisely the same moral, social values found in Torah, the Jewish sacred scriptures (i.e., the "Old Testament"). If there is an element in Western white Christian civilization that makes it 'vulnerable' to Jewish ambitions or aggressions (whatever those are), it is the Christian religion. It is the fact that the Jews can hold the white conscience to the fire–based on a standard the Jews have held for millennia. If Christians, individually or corporately, nationally or continentally, transgress the values on which white Christian civilization is based, the Jews have the most powerful weapon of all with which to combat such deviance: the Bible.
But, Jewish influence in the West, as we know it today, is not so obviously, nominally Biblical. Yet, "Liberalism" is the social, coercive dictation of the very heart of Christian values: love thy neighbor as thyself. (The difference is, precisely, coercion. Liberals coerce. True Christianity is wholly voluntary.) Liberalism professes to be about equality, compassion, caring, and saving others. This is Christianity. (By the way, it is also the heart of Biblical Judaism. "Thou shalt love thy neighbor as thyself," Leviticus 19:18.)
If, however, private property, or "ownership" is the supposed basis of capitalism, then liberal "Communist" Jews need to take another look at at the 10th Commandment: "Thou shalt not covet thy neighbor's house…" Exodus 20:17. Ownership, human ownership, is of divine origin. A man can own things.
And, remember, Jews are white. Jews are part of the white race. That is perhaps an insufferable fact in the eyes of white supremists. But it is terribly important to point out here that not all people who love and honor the white race are anti-Semitic. Not all who wish to preserve the white race and its achievements are averse to Jewish people.
It has been my personal experience to have made statements that attract white supremisists, who later find out that I have a natural love for Jewish people. An American Indian who respects the white race is novelty enough; an Indian who loves the Jews is impossible.
So, I tend to get it from all directions. There is definitely a communication problem.

Filip Dewinter, Vlaam Belang Parlement.
I can say "American Indian," and everyone knows I stand for the preservation of Indian people. All Indians do. But, if a white person wants to preserve the the white nations, he has a name problem. What do you call him? You can't just say, "white person." That doesn't imply his social, political, or ethnic preference. There are white people who don't seem to care at all about white people; there are white people who want to denigrate the white race; there are white people who disdain or "hate" all non-white peoples; there are white people who prefer the white race, who wish to love, honor, and respect it, naturally. Most discussions to not clearly distinguish between these four categories of white thinking.
Early this year, I spoke to the American Renaissance, in Charlotte, North Carolina. (There were two Jewish speakers on the program.) The special guest was Filip Dewinter, member of the Vlaam Belang Parlement (Belgium). This is the white preservationist wing of the Belgian parliament. (Vlaam Belang is Dutch for "Flemish Interests." Mr. Dewinter interviewed me during the conference (February, 2011). Just now, that interview was published in the monthly Vlaam Belang magazine. (Press the "translate" button for English. Some facts about my accomplishments and ideas are lost in the Flemish translation, it seems. But not to worry. Message is clear enough. I have in hand the written written translation of Mr. Dewinters, and I will post it here, as I have time.) The Vlaam Belang interview is an international example of how nationalists and ethnic preservationists understand and identify with each other.
The surge of BadEagle.com traffic I noted has recently included not only the Vlaam Belang interview, but also this curious note in Cross-Currents, a conservative Jewish political web site: "Supporting Those Who Love Us Least," by Yaakov Menken.
Conservative Americans love Israel — and are even philo-Semitic — to a surprising extent. The examples are legion; what struck me today was discovering that David Yeagley, a Comanche Indian and creator of "the sole voice of conservative thought among American Indian intellectuals" is also "a friend of Israel" with a "deep love for Jewish people." Many defenders of Israel have said that Israel giving land "back" to the Palestinian Arabs makes about as much sense as the United States giving land back to the American Indian/Native American tribes; he offers a unique rejection of any parallel between Palestinians and American Indians that only an American Indian could write.

Whatever may have been true 50 years ago, today it is clear that in almost every area of uniquely Jewish interest, conservatives are far more likely to favor that interest than are liberals. This has given rise to another uniquely American phenomenon: a Jewish community which steadfastly supports those candidates least supportive of Israel and Jewish interests.
Menken takes the liberal Jewish community harshly to task for its anti-Zionist national interests, as well as its pernicious positions against the interests of Jewish people in general.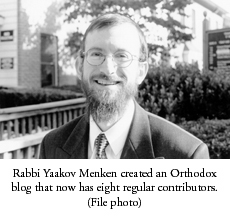 Rabbi Yaakov Menken
So, in a matter of a few days, my positions on ethnicity and nationhood have been reference by both Jewish and White nationalists. I find this reassuring.
I consider liberalism an outgrowth of Jewish survival techniques, as the Jewish communities of the diaspora faced their various cultural challenges. To fight for the rights of all races, religions, and minorities seemed to insure the survival of their own. But, indeed, these techniques have become social norms and laws, particularly in places like the United States. The obvious liability is that what begins as inimical, hostile minority races and religions can easily become gigantic national threats, as in the case of Muslims in Belgium, for instance. For this very threat, Vlaam Belang advocates the independence of the Flemish state!
Could Jewish people survive without the state of Israel? They obviously have, nearly two millennia. Israel doesn't exactly represent a survival technique for the diaspora. So why does Israel exist? That is the question, and not, Does Israel have a right to exist? It is for Jewish people, obviously. Should all Jews live there?
If they should, then the same must be said of every other sector of ethnicities living outside their homeland. Those who believe in equality would have to support the deportation of millions the world over, if they advocate all Jews should live in Israel.
Finally, I say Jews and White Supremacists are much more alike than either is willing to recognize. This observation doesn't offer any particular solution at the moment, but, perhaps it suggest some new lines of thought.