The world vision of George Soros ends at Indian Country. Our blood-bought Indian nations destroy his social values. Our treaties with the United States government defy his grand purposes. The thought that Indians might be an asset to Sorosian globalism points to the ultimate impasse, and Soros' last stand. His vision will die.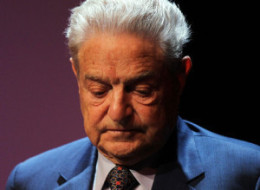 George Soros, dying on the Little Big Horn of
his world vision. American Indians defeat him.
There are reasons for this. First of all, Soros envisions a world without nations. He disdains nationhood, calling it "tribalism," but Indians glory in it. Soros follows the Communist playbook, appealing to troubled ethnicities within larger national contexts, and professes to advocate for them, but only for the purpose of undermining the stability of their larger, host nations. He wants ultimately to control all nations. His base tactic is called racial agitation—a prelude to chaos and the overthrow of nations.
His wealth empowers this racist tool. He finances numerous "indigenous causes" throughout the world. Soros' colossal Open Society Institute claims to work for human rights, democracy, and the rule of law. He uses such groups as the Roma gypsies in all Europe; the Mayan of Guatemala; refugees (from the Albanian point of view) in the Balkans and other exocentric regimes such as Bosnia and Herzegovina; on major systems in Africa (AfriMAP), for such tribes as Kenya's Muslim Nubians (in OSI's East African Initiative); Asia (through Kyrgyzstan's AUCA); and southeast Asian groups such as Burma, Malaysia, and Cambodia. Soros' minions have intervened in Peru, Venezuela, Colombia, and in virtually every region of the globe with dozens of non-profit organizations, NGOs, and quasi-governmental political agencies. America is not exempt. Soros continually affects American politics through media organizations as diverse as the Sundance Institute and Media Matters.
Indeed, Soros wants to save the world. He told this to Michael Kauffman in 2002. "I carried some rather potent messianic fantasies with me from childhood." Soros paid Kauffman to write his biography, Soros: The Life and Times of a Messianic Billionaire.
Secondly, the world is more easily "saved" with less population. This is why Soros is a great advocate of death—by disease, by old age, or by war (disarmament)—regardless of the opposite claims made by many of his organizations, such as OSI's financial and weapons investigations in the Middle East. Soros' "philanthropy" has one end—seizing power to eliminate nationhood, and to bring about a better, shorter life for a smaller world population.
But Soros halts before the Indian tribes. American Indians are averse to the Soros plan.
Why? Indians love nationhood. Indians are an exemplary triumph of nationhood, and the sacrifices required to preserve it. Indians are the most visceral nationalists in the modern world. We know what it means to love your own, your race, your land, your language, your religion, and your culture, more than the quality or length of your own life.
American Indians are the antithesis of everything Soros holds dear. American Indians thwart his very efforts to dissolve America. Soros will never take over the American government. While the country looks like a tottering mass of confusion about to fall headlong into chaos and then to give rise to the tyrannical, Communist police state, as long as American Indians are here America will not fall into the illusionary delusions of George Soros.
This is why Soros has no program for American Indians. He did take over the documentary division Robert Redford's Sundance Institute, and immediately it began promoting Polynesians, Asians, Africans, and homosexuals as "Native American." Thus Soros attempted to mollify the talismanic power of the Indian image through redistributing its honor to all non-white people in the world. (I did protest vehemently, and the braggadocios YouTube clip Sundance had posted in 2007 was soon removed.) This Sorosian effort to subsume Indian nations by globalist racism failed simply because Indians love being Indian, and tend to be quite jealous about it.
A few liberal Indians, because of their professional orientation in Leftist tactics, may see some value in the Soros world scheme, but, when they realize he is profoundly opposed to the very idea of "tribalism," and that he means to dissolve all nationhood, they will quickly disdain him.
They may be initially flattered by Soros' typical Communist sell, and his funds for the poor, the outcast, and the disenfranchised; but when Indians realize he wants just to use them to dissolve America, and to bring everyone under the control of one world government—which is not going to be friendly to independent, sovereign Indian nations, they will reject his world fantasy fast.