BadEagle.com has always been a great fan of soccer, and has tried to give attention to women's soccer. The following story is an account a young college woman's love of soccer, but an even more important account of her faith–when the game was taken away from her.
What do you do when God says "No"? And not just any "no," but the kind of "no" that destroys your life dreams—dreams you prayed about, set your heart on, and gave it everything you had.
Kaitlyn Amos did more than most, even more than those who don't turn their back on faith. She stayed in the realm of her life love, soccer, even though she would never be able to become the great player she dreamed of. She didn't run away from sports, even after a crushing disappointment. Many people have to change careers to avoid a sense of the disappointment. Kaitlyn seems to have shown even more love for soccer, and for all her teammates and coaches.
Kaitlyn's story, "Bearing Through" was published in Sharing the Victory Magazine (June/July, 2010), one several significant efforts of The Fellowship of Christian Athletes.
Rightly so did they let Kaitlyn share the pristine beauty of her simple, innocent, unrelenting faith.
She dreamed of playing soccer for Baylor University since she was a child. She tells of her family's faith and her desire to go to a Christian university. It was not by any means an easy path, but one which seemed perfectly tailored to suit Kaitlyn's spiritual development and sincerity of purpose. It all fell into place, and she committed to play for Baylor in February, 2006.
She broke her collar bone just before her first season for the Green and Gold.
She had a hard go of it, and did not play that first season, or even travel with the team. She also had trouble even meeting the fitness standards. This all came as a jolting surprise, but, Kaitlyn stayed determined to be a success. And even in that first year, her motivations began to evolve—from personal ambition to a simple and deep love for her team and teammates.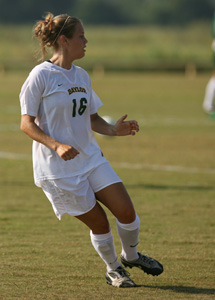 Kaitlyn Amos, playing for
Baylor University, 2006.
But Kaitlyn obviously had questions about the divine plan in her personal life. How could she be of any use to the team if she couldn't play? Why would they even want her around? There were profound considerations for a young college freshman.
Things got worse. In the spring season, she simply could not meet the physical tests. Something was wrong. It was as if her soccer playing talent was being taken from her. Her teammates were openly worried to see her on the field. This was inexpressibly crushing. Yet, Kaitlyn never wavered in her faith. It was a suspended quandary, the kind that drive most people to a different field of interest.
The next season, Kaitlyn played a bit, but in the second half of the game, she tore her right ACL As if that weren't enough disappointment, she was diagnosed with dilated cardiomyopathy. This is why should could never make the top physical tests on the field. Her body would simply shut down at a certain point of exertion. It was a wonder she was playing at all. The torn ACL was like a heads up, to prepare her for the revelation of her heart condition. If she hadn't suffered the torn knee ligament, she might have killed herself by over-exertion on the field.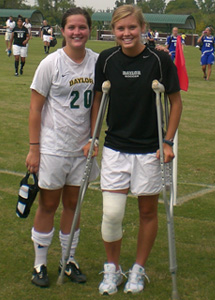 Kaitlyn, after the ACL tear.
In effect, the Good Lord saved Kaitlyn's life. It was an agonizing, heart-breaking "No" to her personal ambitions, for which she had prayed about for years, but it was a life-saving "Yes" to the person of Kaitlyn Amos, and to the celebration of God's will in her personal experience.
We can never see it at the time, but, that's why we are called trust. God can see things we can't. We run against Him without even knowing it. But He deals with us, just the same. He doesn't change everything to suit our personal fancy, but He always has the best interests in mind for those that love Him. That interest is ours to learn. The faithful at least try to learn.
Kaitlyn became a wonderful Christian friend to all her teammates, and thus a most integral part of the team. She traveled with them, prayed with them, and was definitely 'one of them,' even though she simply couldn't play. The NCAA honored her scholarship, and she still wore the Green and Gold jersey.
Kaitlyn did not run from soccer, as though it were a bad memory, or a deep scar. It was like a token of spiritual development. Through this circumstance she was led to understanding and faith. Therefore, she loved soccer the more. This is truly the finest, noblest way to deal with suffering and disappointment. Most of us find it easier to turn away and find something different. Kaitlyn was true to what she loved, and true to her Lord, both. Top performance, indeed.