The women especially were the most obliging in every respect, and, upon the whole, we should have been the most suspcicious of human beings had we entertained a single thought of perfidy on the part of a people who treated us so well. January 18, 1827..
The islanders for whom we entertained such inordinate feelings of esteem were among the most barbarous, subtle, and bloodthirsty wretches that ever contaminated the face of the globe. January 18, 1827.
In truth, from everything I could see of these wretches, they appeared to be the most wicked, hypocritical, vindictive, bloodthirsty, and altogether fiendish race of men upon the face of the globe. It is clear we should have had no mercy had we fallen into their hands. February 20, 1827.
The above quotations are from a 19th century novel about antartic polar exploration. It was published in 1838, as The Narrative of Arthur Gordon Pym of Nantucket by Harper Brothers. The author? None other than Edgar Allan Poe (1809-1849).
The people described in Poe's novel are black. All black. The "whites" of their eyes are black. Even their teeth are black. They have one fear: white. The animals of the island, including the albatross, were all black. Birds eggs were black. The people's huge village, on an island nearest the South Pole, comprised huts "of the most miserable description imaginable," and lay in no perceivable order. The heaths were all covered with black animal skins. The narrator (Pym) says the "village" wasn't worthy of the name.

Edgar Allan Poe, 1809-1849
Commentators on Poe's novel see a dramatization of some slave camp in the deep South. In the experience of the narrator, commentators see an expression of the South's worst fear: a slave revolt. Be that as it may, there are insights–perhaps into both the white and black psyches, that are apparently pertinent today.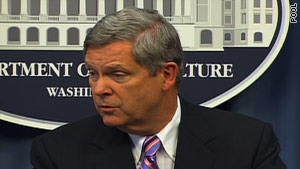 Agriculture Secretary Tom Vilsack said Wednesday he apologized to Shirley Sherrod for forcing her to resign from her government job in Georgia.
Regarding the Sherrod Charade, that is, the hooplah over Shirley Sherrod, the NAACP, and the "White" House, it is abundantly clear that the Negro race is psychologically insatiable. No sociological evolution or government coerced socio-economic advancement will suffice to remedy the pertetual disquietude of the foreign race.
The nagging, pestilential error that white people make is pity. The Negroes will never achieve equality as long as white people pity them.
Does the American Negro deserve pity? Is he to be an object of special compassion? If so, why? Is he not in fact equal?
I say it has nothing to do with slavery or history. It has to do with the fact that black people feel as uncomfortable around white people as white people feel around black people. The contrast of appearance, behavior, and values is simply extravagant. There is no remedy.
Martin Luther King's insistance on "character" was way off mark. The last thing the Negro needs is to be judged by his character. Character is the one thing profundly lacking. Or, we should say, character is the one thing most offensive about him, moreso than any appearance. The black man in American has always been known for not having character.
Rev. Charles C. Jones (1801-1863) wrote of this issue in 1842, in The Religious Instruction of the Negroes In The United States (Savannah: Thomas Purse, 1842).
A knowledge of the moral and religious condition of the Negroes is essential to correct feeling and action thereto. Until we arrive at such knowledge and have it pressed upon our serious consideration, we shall have no just sense of obligation–we shall feel no criminality for past neglect–no disposition for future amendment: nor shall we be able to adopt plans for their improvement, as we must necessarily become acquainted with the nature and extent of a disease before we can hopefully prescribe for it.
Indeed, Rev. Jones writes from a differen era, and surely we should expect the modern American Negro to have developed far beyond these early descriptions. Alas, Rev. Jones prophesies, "the race has been from time immemorial just what it is and just what it must continue to be." Yet, Jones calls for Christian missionary work among the Negroes. That is the point of his book. He says that the white missionary work for the Negro faces serious disadvantages.
The first disadvantage which I shall mention is our intimate knowledge of the degraded moral character of the Negroes. From childhood we have been accustomed to their slovenly, and too frequently, their scanty dress; to their broken English, ignorance, vulgarity, and vice. What in them would disgust or grieve a stranger, or truly afflict us if seen in white persons, we pass by with little or no impression, as a matter of course;–they are Negroes. Their character is held in low estimation, throughout the United States; and, considering what it is, not without reason; for that character cannot be esteemed which in itself is not estimable. Whatever is idle, dissolute, criminal, and worthless, attaches to them. Unconsciously, or rather, instinctively, we determine what the fruits must be from their known character, condition, and circumstances; and when they do appear, we are not surprised. We say, "what better can be expected?"
The Rev. Jones elaborates with excruciating detail the social and psychological observations to be made in the antibellum days.
In 2010, however, we might expect to see a different sort of Negro in America. We certainly do. A marvelous development has taken place. There are great achievers among American Negroes, achievers in mind and body. However, if the character of the people is reflected in their "leaders," we cannot say there has been significant development of soul. Black leaders parade poverty, pity, and pigmentation prostitution. Nothing more. They promote dependency, disquietude, resentment, and subversion. American black people have never had a worthy leader. They have instead clowns, puppets, pimps, and aggrandizers.
But, as long as white people pity black people, the Negro will always be a slave, a mechanical, reactionary social problem. As long as white people do not render true equality to the blacks–by not pitying them, not giving them special favors, not groveling before them with apologies, blacks will never be free. They will continue to manipulate the white man, continue to aggrandize their plight of appearance–disguising their own self-depreciation in the cloak of "slavery," and continue to deceive themselves. Compassionate but cowardly whites continue to let the Negro remain in such a pestilential condition.
The Negroes Soetoro and Holder (that is, president "Obama" and his appointed attorney Eric Holder) have declared war on the white race. Never mind their war on America. It is the white race they venture to punish. That's what's happening in America today.
As an American Indian, I am amazed and dismayed. I admire the white man for his former warrior's strength, yet, I also admire him for his compassion and self-consciousness. He is unique in both. However, at this stage, he needs to re-assess the effects of his proud conscience. His glorious soul needs some readjustment. He needs to realize that he is the envy of all dark races. He is hated. He is the object of their pent up fury. He must measure his compassion now. He must limit the indulgence in his own conscience.
The White Anglo-Saxon Protestant must be brave enough to bear the burden of superior strength, talent, and mind. If he allows himself to be destroyed, for his conscience' sake, he will be of no use to anyone. His accomplishments in the world will come to nought, and the hords of the heathen will quickly reduce the world to the descriptions of Arthur Gordon Pym.