United States "Speaker" of the House Nancy Pelosi has made her words mean nothing. This is an stellar accomplishment, and a national tragedy.

U.S. Mis-Speaker of the House,
Nancy Patricia D'Alesandro Pelosi
Earlier this week she lectured Catholic priests on the dignity of human life (–once allowed to be born, that is). She strongly, openly intructed them to use their pulpits for political advocacy–exactly the opposite position of liberal Democrat Communists who would deny Protestants pastors the right to condemn homosexuality from the pulpit, or to condemn any other liberal social cause the pastors feel socially inimical.
Pelosi urged priests to adovcate for illegal immigrants, to essentially support the transgression of American law, to obscure the meaning of nationhood, and to obfuscate the the authority of the United States government, and particularly that of states. This is all implied directly by her invoking the Catholic Church to war against the law of the land. As if America was some oppressive Central American Communist dictatorship, the mis-Speaker called on the Church to rise up and resist. Such action would "is a manifestation of our living the gospels."
"I would hope that there's one thing that we can do working together as we go forward that speaks to what the Bible tells us about the dignity and worth of every person — and that is on the subject of immigration," "because I think the Church is going to have to play a very major role in how we, in how people are treated."
Pelosi distinguished herself before with a unique "Catholic" theology. She advocates the slaughter of the unborn. Somehow, these life forms are not human beings, and have no dignity or worth. Illegal immigrants, yes, but, unwanted infants in the womb, no.
The Pope himself rebuked the word-witchcraft of mis-Speaker Pelosi. He has condemned her advocacy of abortion both publicly and privately. Pope to Pelosi: Catholics Can't Support Abortion, read the headline after her audience with the Pope. Catholic politicians have a duty to protect life "at all stages of its development," he told her. All to no avail, of course. Pelosi is like a Protestant, actually, in the sense that she has no respect for the Pope, but only herself, her own views, and her own will. His opinion, even ex cathedra, is of no concern or consequence to her. His opinion is no more authorative than hers. In fact, she regards it as less.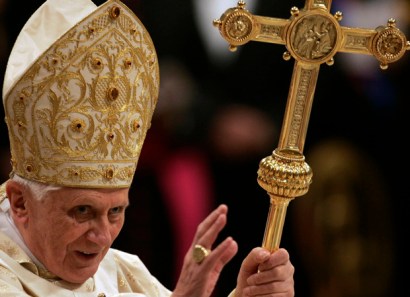 Pope Benedict XVI, who has rebuked Nancy Pelosi. But,
will he excommunicate her? Does excommunication happen
in modern times?
Pelosi continues to praise the Catholic Church, however, whenever it supports something she herself supports. She recently praised the nuns who support the Democrata Communist Death Reform (commonly called Health Reform). The death panels, the limitation of care, the government decisions as to who gets care and who doesn't, all this she claims a group of nuns support, and she praised them accordingly.
Pelosi: 'Thank God for the Nuns' Who Helped Pass a 'Life-Affirming' Health Care Bill, wrote Nicholas Ballasy for CNS news, May 7, 2010. This she said, as a rebuke to the same US Conference of Catholic Bishops who opposed the bill because it funds abortion.
It is abundantly clear, at this point, that a serious Catholic simply cannot be a Democrat. A person like Pelosi, who claims to be Catholic, but who teaches, preaches, advocates, and in her case legislates, in contradiction to basic Catholic beliefs, is simply a person who places no inherent value in words. Words have no ordained meaning. They're just tools, to get what you want, which, in the Democrat Communist's mind, is power and wealth, as well as absolute control over other people.
The whole scheme is clearly Satanic. It's just ironic that a professing Catholic would oppose the Church in this way, yet also make the ironic and imbicilic implication that there is any simlarity in her thinking to true Protestants. It is the spirit of confusion. The spirit of Babel. Pelosi is a citizen of Babylon, in the apocalyptic sense. There's no other explanation for such dramatic irony, contradiction, and outright manipulation and lying.

Mis-Speaker for the United States
of America, Nancy Pelosi.
How can the American public, yea the world, continue to endure this kind of high level destruction of sense and intelligence? Lying at the highest levels of government! Spiritual wickedness in high places, as St. Paul noted (Ephesians 6:12).
Her continual use of the phrase "dignity and worth of every person" when adovcating for Democrat Communist tyranny (materialist "equality"), but not applying it to unborn human beings, remains the greatest self-contradition on record in modern American politics. The mis-Speaker well represents the lying, alien black African Communist in the White House. Pelosi misspeaks for the entire Democrat Communist party, indeed. Just, how long?
It is dangerous, unhealthy, even lethal, to have to listen to these liars on a daily basis. It is degrading to every instinct of human dignity and worth, for sure. It is dibilitating to see our highest government officials lying like it was reality. It is nothing short of Satanic.