Today, April 30, the last day of Confederate History Month, we have to take time out comment on a recent set back in the old South. It seems that our Confederate gentlemen were a bit too genteel.
A Virginia-based fraternity, the Kappa Alpha Order, this very month issued a regulation that no Confederate uniforms are allowed at "Old South" parties, parades, or social functions. We are piquantly provoked. The Kappa Alpha Order claims its very existence was inspired by none other than the foremost Southern gentleman in history, General Robert E. Lee himself. Now, what on earth would daunt these modern Southerners into such a cowardly act as to deny it members the right to honor the Old South, and the hero they profess to honor?

This April 11, 2002 file photo shows members of the Kappa Alpha Order, dressed in Confederate military uniforms, escorting their dates from the James Dormitory at Centenary College during the Old South event in Shreveport, La. amidst protesting Centenary College students. The college fraternity inspired by Confederate Gen. Robert E. Lee has banned members around the country from wearing Confederate uniforms to "Old South" parties and parades after years of complaints that the tradition was racially insensitive.
Black women. Yessuh, them Nigrah women. A sorority at the University of Alabama complained. Tuscaloosa's finest citizens, no doubt. Seventy of them complained to their university's president about the Confederate flag, and the military uniforms. (The young women forgot, obviously, that a lot of black men wore that same uniform.)
Kappa Alpha Order president Larry Weise said,
"In today's climate, the Order can ill afford to offend our host institutions and fend off significant negative national press and remain effective at our core mission, which is to aid young men in becoming better community leaders and citizens."
Mr. Weise certainly doesn't sound like a true Southerner to me. Sounds like a infiltrator, quick and happy to humiliate the South. Look into the Fraternity and Sorority Political Action Committee, of which he is a member, and you'll see the whole PAC is a liberal university organization, advancing only the liberal agenda. This is a pretense and a disgrace. No Southern university should be a member. Mabye no nothern student should be allowed in a Southern university, and no northern faculty member.
But, speaking of parade attire, North Carolina's Kure Beach won't let anyone don thong swimwear anymore. Yowsa. No more of them exibitionist lewder nuders on that fine Southern beach. There's still some mighty fine tradition of decency down in the South.
And that's not the end of news from Dixie. The ol' colonel hisself be struttin' in glory. Kentucky Fried Chicken is donating to the fight against breast cancer. Yessiree. For every "pink" bucket of chicken purchased, KFC will donate 50 cents to the cause. Ain't that a bute!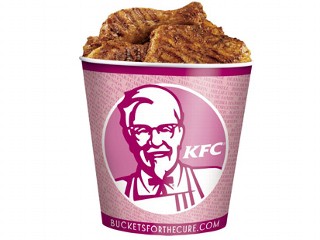 Kentucky Fried Chicken has gone pink to raise awareness for breast cancer. For every pink bucket purchased, KFC will donate 50 cents to the Susan G. Komen For the Cure organization.
Now, speaking of parades, exibitions, and breasts, where is that woman who always dramatizes the issues in such a visceral way? Yeah. Where's that heroine of hyacinthine ethics and social aspirations? Where's PETA Pam?! (That woman never shows up when she's needed!)

The illusive Pamela Anderson, a.k.a. PETA Pam.
Ever concerned about enlarged breasts (–chicken breasts, that is), she should be in the middle of this KFC issue, decrying the breasts, denying carnivorism, and promoting vegan extremities! Perfect irony, inconsistency, and contradiction. What more could a liberal ask? And always involved in exibitionism, she should have been on the Kure Beach immediately in civil disobedience. How dare those crusty ol' Southerners deny the natural exposure of artificial enlargements! As for appropriate parade attire, we'd have thought that Pammy would lead out in affair, being expert in propriety. And, after all, she done danced with the stars! She sho kno what to wear in a public hootenanny. Hm, mm, mmm!
Well, I don't know what's become of the South. We gots liberals denying young Southern boys the right to wear Confederate history; we gots conservatives denying liberals the right to expose themselves; and we gots the Colonel coverin' his own behind. Lands o' livin! What next?
Oh, yeah. Arizona.