What is foul language? What is a bad word, and why is it bad?
People who have grown up in environments without language control often do not understand the very concept of good language and bad language. They seem to wonder at the hang-ups of those people who do not use foul language. Foul mouth people seem to feel superior to the neurotic types who act so offended when bad words are used. Law and political correctness, in a desperate media environment, are not enough to explain why there is such a thing as foul language and pure language.

Sigmund Freud, (1856-1939), who said, "Sometimes, a cigar
is just a cigar."
The best explanation, in modern thought, comes from Sigmund Freud's psychological theory. In many different published works, he offered a relatively simple account of the generation of linguistic hierarchy. Let's begin with the infantile experience. (Keep in mind, Freud died in 1939.)
The very first aversion learned is related to a whack on the little behind, at birth, which rude awakening, theoretically, is never forgotten. The next aversion the infant learns is toward his own bodily wastes. The physical discomforts associated with offensive odors, and physical discomfort if the these bodily wastes are not removed from the infant's body, are part of the initial creation of pain and pleasure complexes in the consciousness. Passing these wastes is essentially a pleasure, but, their presence is highly averse to any normal human being, at any age.
After the child lives twelve years or so, then something extraordinary happens, which is profoundly confusing to these learned and essentially natural aversions. The very bodily organs involved in waste elimination (urination) come to have an entirely different function–sex. In time, this new sexual function comes to be associated with the more intimate, desirable pleasures the human being can know. So, bodily speaking, where the child goes to the bathroom becomes the same place the young adolescent goes for intense human encounter of an acute bonding force. Whereas that which caused aversion and repulsion is now the basis of a unique bond. This paradox continues throughout life.
However, according the basic Freudian theory, the infantile and childhood impressions of aversion toward the original (and continual) functions of those very bodily organs remains, and finds expression in feelings, attitude, and finally language.
A simple examination of nearly each individual word which is regarded as foul, "four-letter," or "bad," will demonstrate clearly that the person using them is expression the original aversion to the organs and elimination of bodily waste.
The "f-bomb," of course, is no doubt the most revealing of the double dimension of consciousness. It is at once used to express hatred and personal pleasure–both of aggressive nature, and in the extreme dimensions of human emotion. It is used to dismiss and to desire, to separate and to unite, to curse and to bless.
Foul phrases, like "kiss my —-" are obviously an overt recall of the original and painful whack on the rear end at birth. While people use such phrases to express profound denigration toward another person, the one who says such a thing is actually, according to Freudian theory, actually expressing a latent desire to have his bottom regarded with affection, rather than pain. When it is used to condemn a "brown noser," it means to condemn the idea of doing the most self-degrating acts simply to please someone else.
As languistic analysis broadens, we find that there is a mix in all foul language. Generally, it is the use of bodily organs and functions to express disdain or denigration, but, nevertheless, it involves the pleasure principle as well.
Foul language is the perfect example of the paradoxes in the human mind. The unconcious expresses itself, continually, in the conscious. Now, according to Freud, we learn self-control. It isn't natural. The libido, the raw energy of the psyche, would destroy itself rather quickly through unrestrained indulgence. Mayhem, cannibalism, and all the most immediate forms of consumption, are the libidic agenda, without rehearsal or instruction. The super ego, of course, is the composit of authority, what we are taught, what we pick up from our environment, as far as what we can or should do. The ego is simply the manager of the conflicts between the inner and the outer life. (The popular use, as in "He has a big ego," is generally quite the misuse of the Freudian term; but, that's the price of making refined thought public. Things get distorted quickly.)
Foul language is not healthy for the mind. Expression of such fundamental psychal aversion and its pleasure principle at the time makes for selfish, denigrating influence. It is obviously anti-social, and there is no benefit from it. It is not the expression of strength, power, or triumph, but rather the opposites. It is a cheap, cheating trick for influence, for impression, for power, and, at the very least (or best), it is a convenience. It quickly expresses disdain, but, even if foul language is habitual, it accomplished nothing. It is a psychal expenditure, with no actual profit at all.
Of course, those who feel most "guilty" about sex use the most foul language. Those who, according to Freud, think sex is actually dirty, or that sex is itself something foul, are those whose conscious psyche has the most leaks.
Notice, finally, that, for the most part, foul language is associate with those people of low social cast, who have never been around people with self-control, but rather have witnessed only dissapation, violent indulgence, and all other forms of human misery. No, they're not fully conscious of any of this, really. Their habits were inherited.
However, the infantile oral/anal complex so obvious in "rap" and street language in general, has been made into an industry, and people of low social cast are not responsible for that. Those in higher positions of power have made a business of foul language, as well as foul behavior. Lower cast people have not been encouraged to evolve into better persons, or to develop better behavior. They have been paid to wallow in their own filth. This is, we can say, evil.
Sex is officially associated with frustration, aversion, and aggression. Sex is about prestige, achievement, even superiority now. This has become the professional approach, and even involves a racial element these days. Those in power are slaving the Negro as an animalistic Afro-disiac, as it were. It is all based on the natural human condition–the one condition which Hannah Arendt never addressed, but the one Sigmund Freud made fundamental.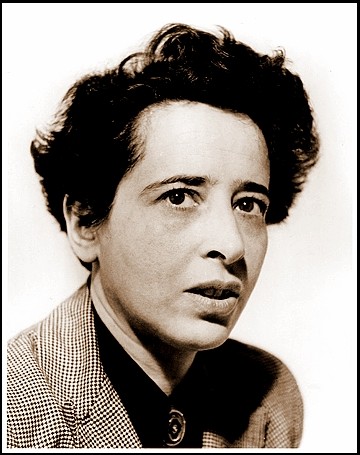 Hannah Arendt, (1906-1975), on of the most influential
social philosophers of modern times, it is said.