What Harry Reid said in 2008, about Barry "Obama" Soetoro, was absolutely true, and there was furthermore nothing wrong in him saying it. Barry appeared to be a higher class black, and more acceptable as a candidate for the nation's presidency. Reid said Barry was "light skinned," and spoke "with no Negro dialect." (Of course, Joe Biden had already declared Barry to be "articulate and bright and clean and a nice-looking guy,"–and "the first mainstream African-American" to be so.) There was no reason for Reid to apologize. He did so only because conservative talk shows were outraged–but not because they necessarily thought differently, rather they were anxious to treat Democrats and liberal media the way they knew they–the conservatives and Republicans–would have been treated if they had said anything like that about a Negro, or even used the word Negro. Thus, their outrage actually obfuscates their own position in the matter. (At least one American Negro said he was not offended by the remarks of Reid or Biden.)

Senator Harry Reid
Arlen Specter's "name calling" of Michelle Bachmann was another case of a perfectly honest, appropriate term. Michelle Bachmann is a lady (–as opposed to Sarah Palin, who herself insists she is only a "jock," or, an athlete type.) Spector was also right about the radio interview he was sharing with Bachmann. It was beginning to sound like a free for all. Of course, what he failed to acknowledge was that the style of talking over someone else, faster, more loudly, more rudely, is a distinctly Democrat style. They invented it. That's exactly what he was doing to Michelle. Why, he was terrified that Bachmann was quick, on the money, and not intimidated.
But, to be honest, he was just being fatherly. He is old enough to be her father, and she is truly picture pretty. I think he was merely charmed. That's all. He wasn't able to be political, fatherly, and charmed, at the same time. Insisting that her being a ready opponent was unbecoming to a lady was a bit of a revealing moment. He knew she was a lady, and that's all he really wanted to say about her!

The Specter/Bachmann exchange.
But, again, in the professional political fervor of the moment, Republicans and conservatives were obligatorily outraged. The Huffington Post reports:
On Friday, RNC Co-Chairman Jon Larimer released a statement slamming Specter's comments as "rude and arrogant" and "demeaning to all women."

"Senator Specter should immediately apologize to the Congresswoman and to all of his constituents for such disgraceful behavior," Larimer said. " Women should never be treated as second class citizens.
So, are we to understand that Republicans and conservatives can now compete with Democrats, in the arena of loud mouths? Is this an accomplishment? Have Republicans achieved "equality?"
And I have to say, the interview Glenn Beck did with Sarah Palin, in which he asked who her favorite founding father was, is another example of strange behavior on the part of conservatives. Beck was so enamoured with Palin that he behaved like the true seventh-grader he really is. It was embarrassing. As she gave her initial answer, that she regarded all of them equally, he mumbled, "B— C—!" He was gently out of control, so excited he was to be talking to her. (It is actually a very special interview.) I note this, not because Beck is wrong in his fundamental ideas or values, but, because he is human. All the conservative talk show hosts, O'Reilly, Hannity, Ingraham, Beck,–these people are just human. There are in our face 24/7, and that is extraordinary, abnormal, and probably not healthy. But, that's a different issue.

Beck and Palin. The founding father question occurs around 4:30.
Conservatives are right when they say the liberals (Democrats) get by with things that they crucify conservatives for. Conservatives are right that the Democrats have a huge double standard, and that they are pathological hypocrits and liars. This is all perfectly obvious.
However, what is also obvious, at this point, is that conservatives are sacrificing reality points here and there, sometimese important points, in the name of loud-mouthing political sport. If it is true that a lighter skinned black, who doesn't talk like the average Negro, was a more acceptable candidate, then why protest? If it is true that Michelle Bachmann is a true lady, why on earth object?
Unless these remarks by Reid and Specter are cited as examples of moral failure in and of themselves, it is shameless to make an issue. Even if these remarks are cited as examples of the serious immorality of hypocrisy and double standards, the outrage is but ill spent. Perhaps they are such examples. But, let's not bury the truth in outrage. Barry is a smooth Negro. Michelle is a lady.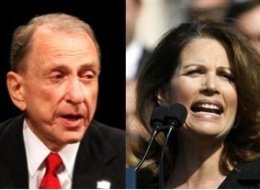 Specter and Bachmann.