Nationhood is ordained of God. This is evident in scripture from Genesis (11:7,8) through Revelation (21:24). It was not the first design, but a resort, due to the apparent incorrigibility of the fallen human race. Nations are subject to probation, as well, evincing their character and values (Gen. 15:13-16).
Given this arrangement, how is a nation to be managed? What are the standards, the rules, the concepts. Surely, the Lord would not judge without having revealed the standard.
Enter: Israel. Though nationhood was long established, and the ranks of heathendom were magnified in ungodly images and cruel human relations–labor management being the fundamental abuse, the Lord ordained a new kind of nation, a long awaited exemplar of what He would have a nation be.
It was a tall order, and he created a special people for this assignment. No existing people were demonstrably capable, apparently. None were elected for this extraordinary purpose.
The most obvious, yet, utterly forgotten concept in the nature of ancient Israel was its economy.
Economy is a strange kind of word, with so many different applications, but the basic connotation pertains to income (profit) and expenditure (debt). A "good" economy is one in which production is high, and profits are high. A "bad" economy is one in which production is low and debts are high.
Nevertheless, in general public discussion, the word "economy" has little specific meaning, and functions as some emotional buzz word. Obviously, the US government has behaved as though debt is not critical. A "bad" economy is quite normal, expected, and operable. This is the message of the US government behavior. Never mind political theory or campaign rhetoric.
In ancient Israel's "economy," there is something we really need to consider. The original plan was remarkable. Israel was to have no relations with other nations. No leagues, covenants, agreements, or cooperative efforts. It was total "isolationism," socially and economically. Israel was not to imitate the any other nation, in any way (Deuteronomy 7:1-8).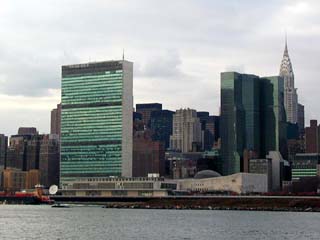 The United Nations building, in New York City,
generating the worst possible concept of nationhood.
This means no trade relations. Israel was to be utterly self-sufficient, with no dependence on any nation, for any reason. Israel produced for itself, not for others; nor did Israel produce for others.
If Israel maintained this trust (–and it would take complete trust in the power of the Creator), all would be well, and it would be a testimony of what the Lord designed for all the nations, each and every one, regardless of size or location (Deut. 4:6-7).
It took some time, and a lot of getting used to, but, there came a point when Israel more or less achieved the execution of the Lord's design. Indeed, the kings and queens of the world looked to Israel for the secret of her mysterious "economy." Potentates brought massive amounts of wealth to Israel, in some inexplicable intuition that all things proceeded from Jerusalem. Jerusalem became some kind of international bank, or storage place for the treasures of the world–or at least of those nations who recognized the strange superiority of Israel. This was all during the peak of Solomon's reign (I Kings 10; II Chronicles 9).
This is all extraordinary, for it evolved without imperialism. No nation was forced to despot treasure in Jerusalem. This was not a military regime. I Kings 10: 24, 25, e.g.:
And all the earth sought to Solomon, to hear his wisdom, which God had put in his heart. And they brought every man his present, vessels of silver, and vessels of gold, and garments, and armour, and spices, horses, and mules, a rate year by year.
It was not about trade. It was not about a planned and coerced global "economy." It was the natural centralization of wealth, the voluntary recognition of the mysterious transcendence, the magic, if you please, of Israel, of Israel's God. This was probably the rarest moment in the history of nations.
And it did not last long. All began to decline, even before Solomon died. Why? Transgression of the rules. Hyper-taxation and levies. Solomon became self-centered, and somehow lost the vision of purpose. The Bible says it was because of the women in his life. Too many, and of the wrong kind. This was the main error of his regime. These relationships were political covenants–precisely the kind that were unholy, forbidden, and came with a curse.
Solomon assumed to himself the responsibility of international relations, instead of simply trusting the power of the Lord to control all circumstances in the world, from the weather to the heart, from nature to the human soul.
A lack of trust–that was the fall. That's always the fall. That's where man gets off. We just can't seem to trust God, not for very long, if ever.
But the lesson is clear. True nationhood is about independence, not trade relations with other countries. Nationhood is about self-reliance and proper values, not international agreements or globalist machinations.