Whenever conservatives can bring themselves to even mention American Indians, it is always to illustrate a bad example of something. Indians represent the horrors of the "welfare state," the conservatives say. Lately, the horrors of Indian Health Care are being cited as an example of federal, government administered health care. Indian ills are being used as an example of what will happen if the Democrat health plan is passed.
Laura Ingraham has mentioned this more than anyone else, but still infrequently. (She often uses the phrase "off the reservation" however, whenever she's describing a politician who is breaking ranks with his party line.) Today (September 3, 2009), on her radio broadcast, she made a major point about the dramatic failures of Indian Health Care, and blamed the government's incapacity to administer such a program. The state of Indian Health Care on the reservations was cited as a solemn warning of what will happen if ObamaCare is passed.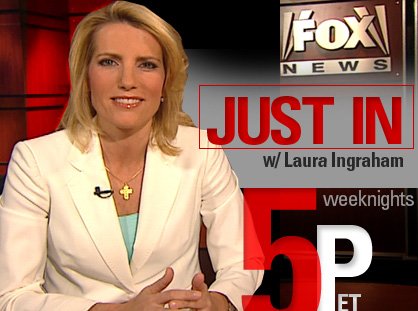 Laura Ingraham, with nothing good to say about American Indians.
Fine. But, is this the only national publicity Indians are going to get in this country? A bad example of the federal government in action? Is this what conservatives see in the American Indian? Surely unintentionally, such conservative use of the Indian inevitably echoes the protests of the Left! It is the liberals who love to cite the Indian as the most intense victim of American mistreatment. It's the "hate America" campaign again. But, if the conservatives are only going to mention poor, miserable Indians in the context of bad government, conservatives are simply playing into the liberal view on Indians.
This is unfortunate, and needs to be corrected. The issue is not whether this use of Indian Health Care (IHC) is appropriate and true, but whether conservatives have any positive regard for Indian nations at all. I think rather that most conservative leaders do not have any developed thought about Indians, and have little understanding of Indian issues. They simply see Indians as "balkanized" pockets of social refuse, plagued by special privileges, which could all be cleared up if there simply were no reservations. This is the published view of David Horowitz, for example. Indians must be Americans, and not be legally separated in any way. Indians must "immigrate" into American society, integrate with other races, and have inter-racial sexual relations, and essentially, dissolve their existence as Indians.
BadEagle.com, of course, has quite a different view of Indians, and the Indian role in American culture. Indians are an example of the kinds of sacrifices people are called upon to make in order to preserve nationhood, ethnicity, religion, and language. Indians are in fact examplary. Indians provide, right here in America, the best example of nationhood. Indians demonstrate what it means to love one's nation, one's people, and oneself. Indians are the best example of what America needs to do to preserve itself, and what every other nation needs to do.
Of course our Indian nations are full of problems, for all kinds of reasons. Indians provide the worst statistics in social ills of any studied group. Indian leadership has certainly failed to provide remedy. BadEagle.com has always acknowledged this. But the social ills in Indian country are caused by Indian failure, not government policy. Indian psychology needs re-organizing. BadEagle.com has tried to at least begin providing new understandings of what it means to be Indian in the modern world–what the Indian should mean to the modern world. There must be new thinking available to Indians.
BadEagle.com's approach is that of a path maker. Some may call it a visionary, or a medicine man. Be that as it may, it is simply to provide new ways of thinking about the present situation. Positive ways of thinking. Resentment of America, while it may contribute to the desired separateness, is pernicious and unhelpful. The averse sentiment is deeply unhealthy, physically and mentally. Rather, Indians may see themselves as the host of the American people. This was our original role in the lives of the rather lost Anglo-Saxon immigrants. Indians provided for them. As history developed, Indians were forced into a different position, but, America was still shaped by Indian encounters at every stage of the country's development. America bears the Indian's image, fundamentally. The Collective Unconscious of the American psyche is half Indian.
In other words, Indians can and should see America as our step son. We raised him. He is very great. We should be very proud. This is the positive, healthy way to think about America, for Indians.
Apparently, without this view, the initiative of Indian people for self-improvement is insufficient. The impetus for self-reliance and independence–those core conservative values–is not found in any effective measure in Indian country. BadEagle.com has emphasized the true meaning of warriorhood, and the inclusion of conservative values within that concept, but even this has not caught on as it should. The renovation of Indian thinking must be thorough, and complete. It must start at the foundation of the encounter with the dominant society, the White Anglo-Saxon Protestant society. The Indian's role at the foundation was one of host, provider, and protector. This is where new Indian thinking must begin. (The warrior image developed at a later stage.)
Instead of referring to Indians as the worst example of everything that's wrong with federal government, I say it is time to see the Indian as the best example of what it means to love one's own. Yes, Indians appear naive, and even foolish. Our problems are abyssmal. Yet, the basic intuition that keep Indians Indian is precisely the stuff that keeps a nation a nation. Let conservatives begin to see that in Indians, if they are disposed to see Indians at all.
Conservatives disdain to mention Indians because Indians are like a thorn in the flesh, or because Indians are an embarrassment, or because Indians are a rebuke to America's pride? Okay. Forget all that. Look at the Indian as the torch-carrier of nationhood, in the raw, in the midst of a nation utterly ill-defined and under siege therefore. If conservatives say anything about Indians, let it be something useful, helpful, and true. If conservatives wish to distinguish themselves from liberals, let them see Indians in a new way, in a positive way. Let conservatives encourage honor in nationhood. Let them, for once, acknowledge what Indians have, and are, in the way of natural patriotism.